Event Type
King Heritage and Culture Centre
Location
King Heritage & Cultural Centre
Ages: 14+
Location: King Heritage & Cultural Centre, 2920 King Road, King City
Cost: $100 +HST per person. Includes all materials.
Image
The Metis are known as "The Flower Beadwork People." In this class you will learn beading techniques to make a decorative Beaded Floral pin.
While we bead, you will learn about the Metis, an Indigenous people in Canada. 
You will learn of the history, that was shared through families, behind closed doors.  You will hopefully come away with a better understanding of this Indigenous culture, and how many are reclaiming their story and their history.
This is a three part workshop, participation in each session is required to complete the workshop. Basic Hand Sewing skills are necessary. All tools and materials will be provided.
About the Instructor: Kathy Morgan
Image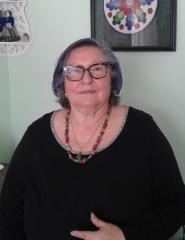 "I am a proud member of the Metis Nation of Ontario, who are renowned for their distinguished flower beadwork. The Metis are one of the Indigenous peoples in Canada, who trace their descent to mixed First Nations and European heritage.... French, Scottish, English, and Irish. Uniquely Canadian, our forefathers were voyagers, trappers, buffalo hunters, explorers, and traders.
My interest in Indigenous Arts, was first stirred when I was taught beadwork by my Metis Grandmother. Beadwork is an Indigenous art form used often for personal adornment.
My designs are inspired by nature as well as Indigenous patterns found in museums and books. I use glass seed beads... (applied) onto deer, elk, moose, and buffalo skins, which I carefully choose, cut and hand sew. I also use recycled leather and furs. My work includes bags, wallets, bracelets and decorative pins.
I am a Metis Cultural Presenter and have shared my knowledge, teaching beadwork to students of all ages."
Program Code: 14237