You asked. We answer.
The Township of King's customer service team, ServiceKING, connects daily with the community. The team is ready to answer your call or email message and to welcome you in-person to the King Township Municipal Centre.
Here are the Top 5 topics heard this week by the ServiceKING team with links to where to find information.
Last updated: September 6
Registration for Recreation Programs
One of the popular inquiries for people in King is the Township of King's Recreation Activity Guide.
The Guide is now available online. Fall season registration opened on September 5, 2023. Visit king.ca/recreationguide.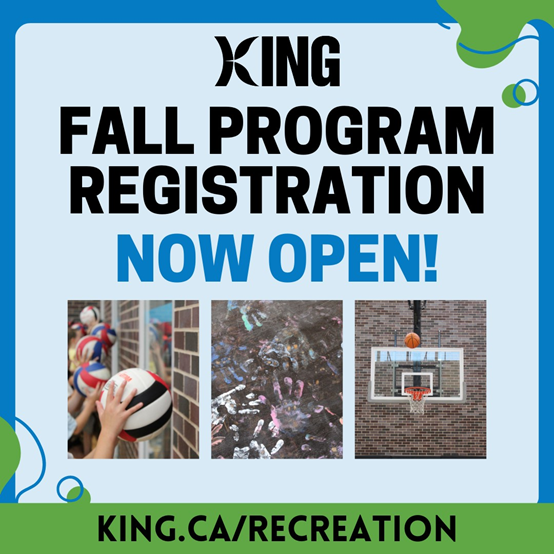 Information about Taxes                             
People in King are asking for information about their tax payments. The next installment due date is September 20.
See some payment options, below. Visit king.ca/propertytaxes for more information, including a tool for estimating 2023 taxes.
Find out where your tax dollars are invested by watching this video.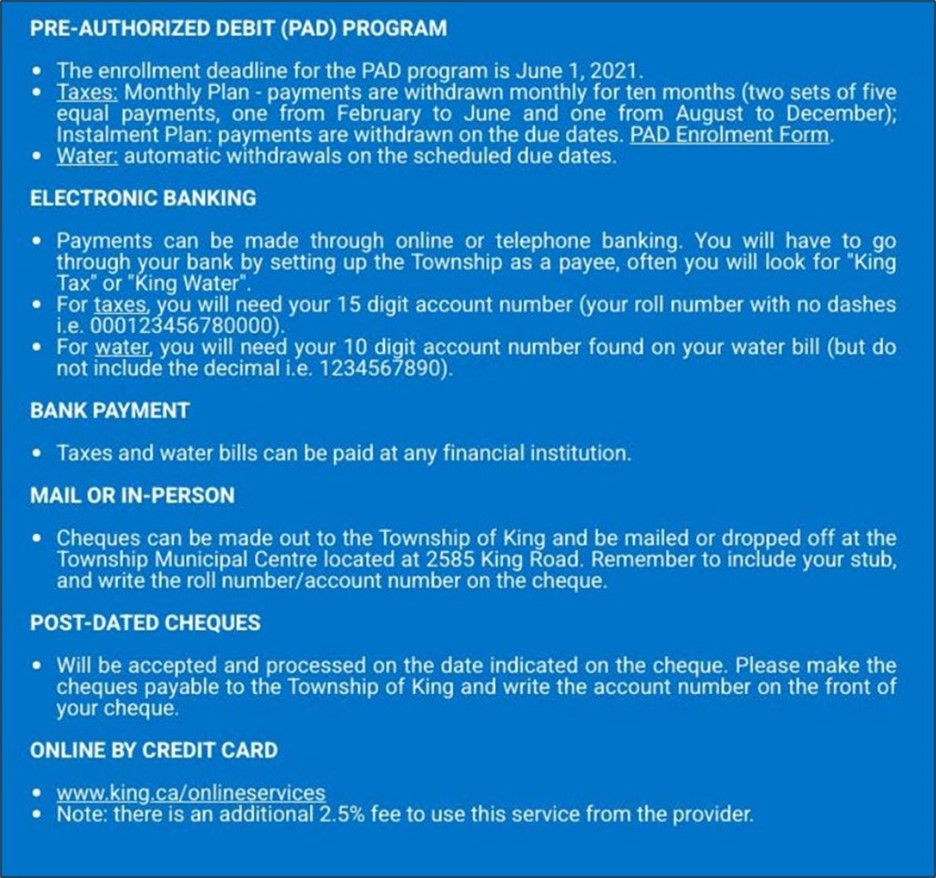 Water Use and Billing Information
Residents in King want to know more about their water bills. The third-quarter billing from July to September 2023 will be issued in October and due on November 15, 2023.
Payment options for both water and tax bills include:
•    Pre-Authorized Debit (PAD) Program
•    Electronic Banking
•    Bank Payment
•    Mail
•    In-Person
•    Post-Dated cheques
•    Online Payments
Find water and wastewater billing information, important dates, an information sheet for new residents and a tool to help track your water usage at king.ca/waterbilling.  
Keeping Yards Clean in King
Some King residents are concerned about unkept properties near them.
The Clean Yards By-law​ 2016-68​ sets out minimum standards for properties in the Township of King including some rules on litter, waste and property maintenance (long grass and weeds) to help ensure that properties are safe, clean and attractive in relation to adjacent properties.
If you wish to file a complaint about the maintenance of a property in your area, please contact By-law Enforcement Services by email by-law@king.ca ​ and provide the municipal address a small description of your concern and your return contact information (phone number, name and municipal address). You can also call 905-833-5321 and a ServiceKING Representative will take your details or assist you.
If you require more information about a Township park, have a concern or want to report a problem, please contact parks@king.ca​ or 905-833-5321.
Waste Collection, Replacing Blue and Green Bins
Residents have questions about their waste collection, including yard waste, waste collection schedules and replacing a blue or green bin.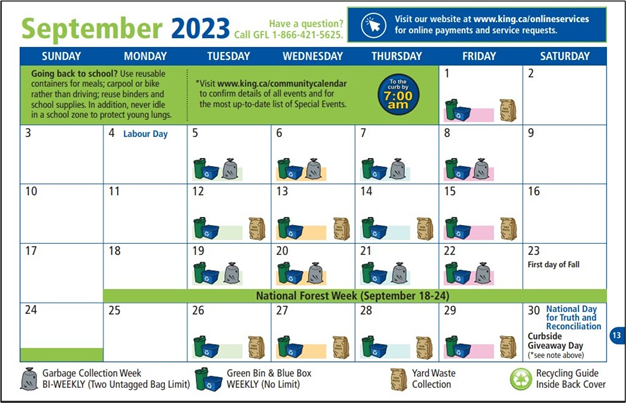 Visit king.ca/waste for general information, and king.ca/yardwaste. To report a missed waste collection or to find out how to replace green or blue bins, visit king.ca/collection.