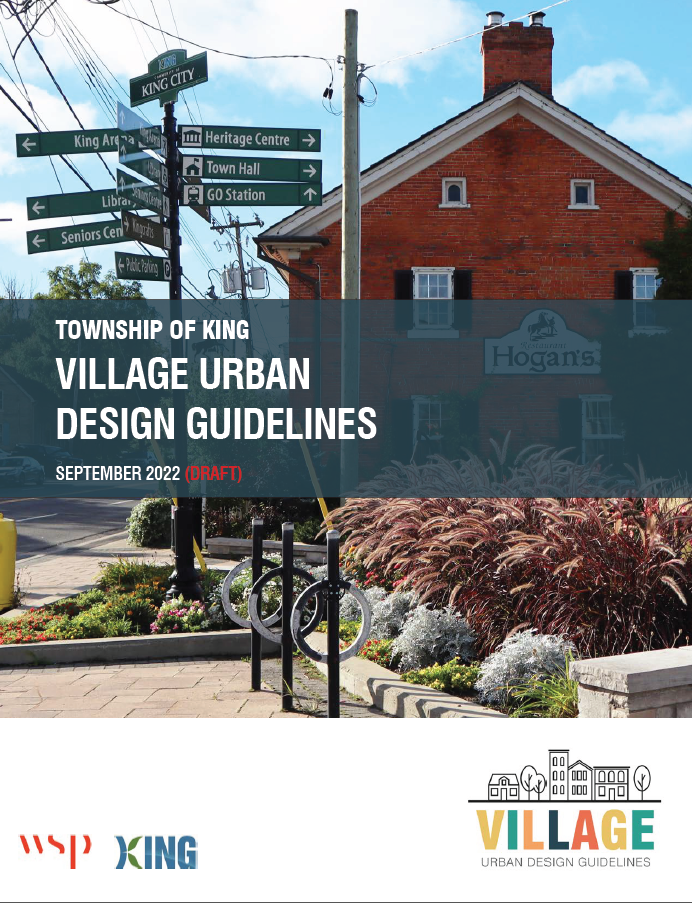 King Township is undertaking a review of its Urban Design Guidelines which apply to the Villages of King City, Nobleton, and Schomberg, and Employment Areas. The outcome of this review is anticipated to be a new, consolidated set of urban design guidelines that apply to the Villages, focusing on three areas: Village Centres, Established Neighbourhoods, and Employment Areas. Each Village in King Township has unique characteristics, circumstances, and issues that will be considered in developing the Guidelines.
The Village Urban Design Guidelines are a series of statements and images that outline the types of design elements and features that will shape development in King Township. Urban design is informed by a variety of disciplines including architecture, land use planning, landscape architecture, and engineering. Building orientation and siting, streetscape design, built form massing and special locations in King Township can all be addressed through the guidelines.
Draft Village Urban Design Guidelines
View the draft Village Urban Design Guidelines at the Township's public engagement page SpeaKING.
Any comments regarding the draft Guidelines or the recordings can be sent to Aloma Dreher, Senior Policy Planner, at adreher@king.ca or at 905-833-5321, ext. 1004.
Please provide all comments on the draft by November 14, 2022. We look forward to receiving your input!
Current Urban Design Guidelines