​Update 54 - July 9, 1:28 pm
King is providing information and resources to help our community stay safe during COVID-19.
Staying Safe During COVID-19
What to do if you feel unwell
Staying safe while shopping
How to report concerns about individuals or businesses not following COVID-19 related emergency orders
General public health questions
What to do if you feel unwell
The health and wellbeing of our citizens and staff continues to be King Township's top priority. If you feel unwell and have been exposed to COVID-19 or believe you have symptoms related to COVID-19, you should use the Province of Ontario's self-as​sessment tool. Once you have taken the assessment, you can consult with York Region Public Health at 1-800-361-5653 or Telehealth Ontario at 1-866-797-0000. The assessment will help you and the medical professional you speak with determine what to do next. If you need a COVID-19 test, you can get tested at a nearby COVID-19 Assessment Centre located at:
If you have any severe symptoms, such as difficulty breathing or chest pain, call 911.
It is important that every citizen follows public health guidelines and takes steps to protect themselves and their loved ones from new and emerging diseases. For instructions on how to keep yourself and others safe, as well as additional information and resources, visit york.c​a/COVID19.
Staying safe while shopping
As King is now in Stage 2 of the provincial reopening, many businesses have started to reopen. While it can be exciting to return to some shopping in-person, it is important to remain vigilant and reduce the risk of COVID-19. Here are some helpful tips to stay safe when heading out to the mall, or other retailers.

Before you go out, ask yourself if you could purchase what you're looking for online or through contactless pick-up.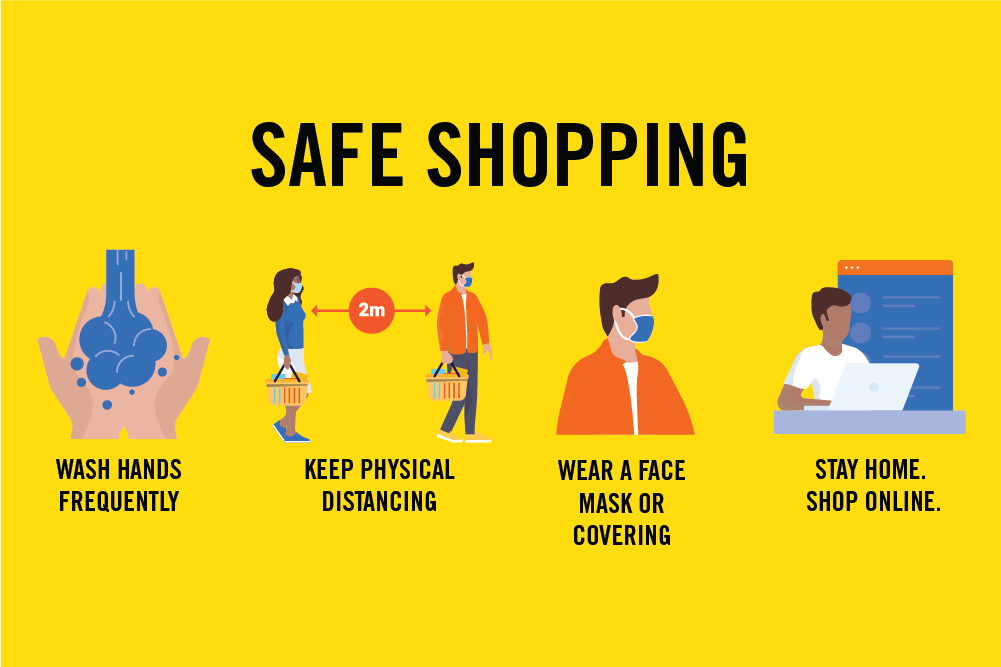 If you do go shopping in-person, remember to:
Practice physical distancing by staying 2-metres away from others. If physical distancing cannot be maintained, wear a 2-layer non-medical mask or face covering
Avoid touching your eyes, nose and mouth
Frequently wash your hands with soap and water for at least 20 seconds and cover your mouth if you need to cough or sneeze
For a more comprehensive list of safety tips, visit York Region's Shopping Tips During COVID-19 page.
Reporting concerns about individuals or businesses not following Covid-19 related emergency orders
As more businesses open under Stage 2, more employees will go back to the office, families will visit with loved ones, and residents will enjoy more activities that have reopened.
York Regional Police (YRP) reminds residents to still take precautions against COVID-19 to keep our community safe such as practicing physical distancing, staying home when ill, and frequently washing your hands.
YRP is responsible for taking reports and/or responding to calls related to the Emergency Management and Civil Protection Act invoked by the Province of Ontario. This means that if you believe individuals or businesses are not following provincial orders, you can report your concern.
YRP are receiving numerous calls and emails to their general mailbox regarding businesses and people failing to follow the emergency orders. Residents should call the non-emergency line at 1-866-876-5423 to report these violations.
YRP cannot take reports over email or on social media.
For more information on YRP's responsibilities and response to COVID-19, visit​ their website.
General public health questions
If you have general public health questions, then please contact York Region Public Health:
Health Connection (Monday to Friday from 8:30 AM to 4:30 PM): 1-800-361-5653 (TTY:1-866-512-6228)
Communicable Diseases On-Call Investigator (after hours): 905-953-6478