Here you will find the latest information and updates on COVID-19, as well as information about various Township services, facilities, and amenities that may be impacted due to the COVID-19 pandemic.  Please check back for regular updates. You can also follow us on social media for additional news on Twitter and Facebook. 
Innovations and Process Improvements During COVID-19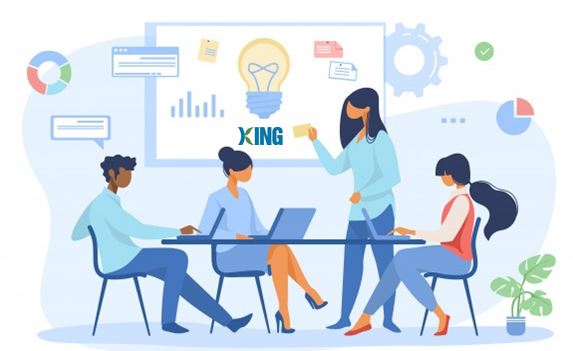 Unprecedented challenges presented by COVID-19 have impacted the Township of King, as all organizations and industries around the world. The pandemic prompted urgency to examine how the Township conducts its business and  delivers its services. In the spirit of fostering a safe, healthy and resilient community, the Township of King has proven its ability to quickly pivot, adapt and be resourceful in its response to the pandemic to maintain business and service continuity.
As a means of fostering continuous improvement and learning, the Township has documented its 85 organization wide innovations, process improvements, efficiencies, service enhancements, and operational changes that effectively respond to and mitigate the challenges presented by COVID-19! 
Check out all 85 innovations and process improvements below:
COVID-19 Screening Tool

The King COVID-19 Screening Tool is part of the Township's efforts to provide in-person (by-appointment only) and recreational services to the community. If you will be visiting any Township facility, you will need to answer the questions in this Screening Tool to help ensure staff and the public are safe from possible exposure to the COVID-19 virus. No patrons will be able to enter any Township facilities without first completing the screening. If you do not have access to a printer to bring your results to the facility for your booking, contact ServiceKing at 905-833-5321 or by email at serviceking@king.ca. 
The Township is taking a cautious and gradual approach to reopening facilities and services. While we establish a new normal, an added layer of health and safety measures is required to ensure the safety of our residents and employees. 

In an effort to provide ongoing protection, a new COVID-19 screening tool will be in effect and mandatory for the public and staff when entering in reopened Township facilities. 

Screening tool overview:

Both staff and public visitors will be required to answer a short series of screening questions in order to access reopened public Township facilities. Screening can be completed by visiting http://screening.king.ca
Answers to screening questions will generate a pass/fail response determining eligibility to access the facility.
A pass response will be accompanied by a green check mark icon which you will show to an on-site staff member prior to entry.
Please note: public visitors are required to complete screening tool before accessing all Township facilities visited that day.
If visiting one facility, screening completion is only required once prior to entry.
If visiting multiple facilities, screening will need to be completed for each individual facility.
The screening program will keep an attendance log for 12 months in the event that contact tracing is required by York Region Public Health. After this period, data will be deleted. 

While it is encouraged that screening be completed before attending the facility, posters will be available on-site containing a QR code, making navigation to the screening website quick and easy. Most phones can read a QR code by using the camera app and hovering over the QR code. A popup asking you to visit the screening tool URL should appear. 
Mandatory Face Coverings or Masks
Mandatory rules for masks and face coverings came into effect July 17, 2020, in all places where the public has access. This decision comes from York Region and is applicable to all municipalities in the region. 
York Regional Council voted unanimously to endorse a recommendation from Dr. Kurji requiring operators of enclosed public spaces in York Region to prohibit persons from entering the establishment if the person is not wearing a face mask or covering. This will be in effect Friday, July 17, 2020.  Facilities not open to the public, such as our Regional buildings, are exempt.  There are also exemptions for young children and people with certain medical conditions.  It is important to keep in mind that masks are not a replacement for physical distancing. Additional information related to mandatory mask wearing is available at york.ca/mandatorymasks.​
The rules about mandatory masks and face coverings are in the form of an Order made under the Emergency Management and Civil Protection Act​​​ (EMCPA). The Act notes that every person who fails to comply with the order is guilty of an offence. However, the By-law Enforcement Division's objective is education and voluntary compliance, and enforcement as a last resort option. 
Complaints 

Complaints about all food-type businesses, personal service settings i.e. hair and nail salons, barber shops, tattoo parlors, spas and salons, daycares, public swimming pools, and splash pads directed to:​

York Region Health Department
​​1-800-361-5653 

Complaints over non-food premise to:

​By-law Department
​905-833-4002,  

*When in doubt  take all information and forward to by-law@king.ca and the By-law Enforcement Division will follow up with you and confirm next steps.
Where to report concerns about COVID-19
Building and Planning Applications
Building Permits

In accordance with ongoing Provincial announcements, all construction projects with valid Building Permits may commence and/or continue construction. The Building Division continues and receive, review and issue building permits for works in accordance with standard procedures. 
With this enhancement to allowable construction comes the stipulation that all construction sites must meet or exceed the Ministry of Labour's (MOL) Guidelines for Construction site Health and Safety during COVID-19. The health and safety of citizens, workers and Township staff remains top priority and we fully support the shuttering of any site that doesn't meet these requirements. Please visit the MOL​ website for details regarding these Guidelines. 
Should you have questions about impacted services, electronic permit applications or how to apply or pick-up permits, please contact one of the Building Division Permit Administrators. 
Any meetings with external clients will be completed by telephone only.  The Building Division will continue to schedule and conduct a modified inspection structure (subject to adjustment). ​

Building Inspections

Some adjustment to inspection services will remain in effect. Inspections that require Township Staff to enter occupied spaces will not be conducted until further notice. All other inspections requests can be accommodated as per standard procedures. ​
​​Please book inspections by email only at inspectio​ns@king.ca. Contact Eric Moon ​at emoon@king.ca or Jennifer Roos at jroos@king.ca for further details on the revised inspection protocol. Additionally, you may send an email to inspections@king.ca to receive an automated reply further outlining the Building Divisions current operational status. ​

The Township continue​s to accept planning applications. Customers can drop non-confidential plans and relevant information, in the drop-box at Township Municipal Centre (8:30 a.m. - 3:00 p.m.). Applications also can, and are encouraged, to be filed electronically if possible. Please contact Gaspare Ritacca (gritacca@king.ca) for assistance.​ All meetings with external clients will be converted to conference calls. Please contact us ​at 905-833-5321 for further information on protocol. ​You can also refer to the Planning Department's Covid-19 Information Letter​ that refers to how planning-related operations are continuing. 
Clerks
Commissioner of Oath, Affidavit Services, and Marriage Licences previously available by appointment only on Wednesdays at the King Heritage and Cultural Centre have been suspended for the duration of the Provincial lockdown. For more information contact us by phone at 905-833-4069 or by email at clerks@king.ca. 
Marriage ceremonies have also been suspended until normal business resumes. ​If you have a marriage licence issued between December 1st, 2019 and July 24, 2020, and have been unable to proceed with a marriage ceremony, the Province recently announced an extension to the expiration period for marriage licences​. All licences issued during this period are valid until July 24, 2022.
Requests for urgent need burials or interment rights purchases at the Nobleton Community Cemetery can be made to ServiceKing by telephone at 905-833-5321 or clerks@king.ca​. 
​Non-urgent interment rights purchases or monument installations will not be processed until normal business resumes.
Film permits, road occupancy permits, noise permits, special occasion permits, and lottery licences will be dealt with on a case by case basis, subject to physical gathering limitations. 
For any other Clerks-related services, please send an email to the Clerks Department at clerks@king.ca​ 
Economic Development
King's Economic Development staff is available to provide guidance, support and assistance to businesses looking for information on programs services and measures through and beyond these challenging times. ​ Feel free to contact them by e-mail at ecdev@king.ca or by phone at 905-833-4016.

​Business visitations can be organized if physical distancing measures are possible. You can contact ecdev@king.ca​ to book an appointment. 

​Additional resources are available from the following websites:
Township Parks and Amenities
Outdoor social gatherings and organized public events are restricted, except for with members of the same household or one other person from outside that household who lives alone or a caregiver for any member of the household.

Outdoor recreational amenities are closed. This includes:

Outdoor sports facilities and multi-use fields, including:

golf courses
baseball diamonds
soccer fields
tennis, platform tennis, table tennis and pickleball courts
basketball courts
BMX parks
skate parks

Portions of parks or recreational areas containing outdoor fitness equipment
Picnic sites and picnic tables

Parks or recreational areas may be open for the purposes of permitting persons to walk through or use portions of the park or recreational area.

Playgrounds, play structures, and equipment can be used by children if both the children and their parents can maintain a physical distance of at least two metres from others (other than a person who is a member of the same household, a member of one other household who lives alone, or a caregiver for any member of either household).

Outdoor parks and recreational areas, off-leash dog parks and benches in parks or recreational areas can be used if persons using the amenity maintain a physical distance of at least two metres from any other person who is also using the facility, other than a person who is a member of the same household, a member of one other household who lives alone or a caregiver for any member of either household.

All King Township facilities are closed until further notice.  
For ongoing updates and press releases regarding facility closures and reopening dates, check back to this page. 

 Tr​ails owned and operated by the Regional Municipality of York, Toronto Region and Conservation Authority (TRCA)​, Lake Simcoe Region Conservation Authority (LSRCA) are open with physical distancing requirements in place. For more information on general trail safety recommendations, please visit the York Regional Forest webpage.
Water and Wastewater
Water quality sampling will continue as per Provincial regulations and water/wastewater emergencies such as breaks and backups will be dealt with immediately. Staff will try to diagnose and find a solution where possible over the phone before visiting a property. Water/wastewater Operators will be entering private homes on a case by case basis and they will respond to investigate the municipal infrastructure and advise residents to contact a private plumber for internal investigations. Routine water/wastewater activities will continue. Further inquiries should be directed to Customer Service at 905-833-5321 or serviceking@king.ca. Please note: contact serviceking@king.ca​ or 905-833-5321 to arrange alternate pick-up options for well water test sampling kits.
New meter inspections will continue provided the home is in an unoccupied stage for the inspection.   
Roads and Sidewalks
Road and sidewalk maintenance will continue as usual, including road, pot hole, and sidewalk repairs and maintenance, and snow removal on roads and sidewalks. 
King Township Public Library
KTPL is offering Curbside Service. You can place holds on almost all library materials. Once the material is available then you will receive an email notification that will include the Cubrside Service Hours for all our branch locations. Contact your local branch or email info@kinglibrary.ca between the hours of 9 a.m. - 5 p.m.
All KTPL branches remain closed to the public until further notice and will continue to offer Curbside service only. Online Library services continue as usual. 
Please note that your items will be checked in AFTER 72-hours of quarantine. You will not be charged overdue fines during this period.
More information can be found at kinglibrary.ca​ 
Fire and Emergency Services
All emergency services provided by the Township of King Fire & Emergency Services will remain uninterrupted. All public education events have or will be cancelled until further notice, including school visits and station tours. All non-essential fire prevention activities have also been cancelled or postponed. The Fire Prevention Division will still be responding to requests and/or complaints that involve immediate threat to life. Fire Stations remain closed to the public.​​ 
For any questions related to burn permits please contact King Fire and Emergency Services at 

905-833-2800​​ or by email fire@king.ca​. 
Finance and Taxes
Tax and water bill payments can be made at your bank or through your bank's website or mobile app; or
online services; or 
by cheque, mailed or placed in the Drop-Box at the King Township Municipal Centre at 2585 King Road, King City, ON, L7B 1A1. Our drop-box is located beside the front doors of the building. 
As our ServiceKing customer service centre remains closed to the public, cash payments cannot be accepted by the Township. However, you may pay your billings at your bank with cash. 

Water meter installations and non-emergency water issues ​

New water meter inspections are available through the Township's Building Division for dwellings in an unoccupied stage.
Water/Wastewater Operators will not enter occupied dwellings having more than one person in the home at the time of conducting the inspection.
Water/Wastewater Operators will not enter any dwelling for non-emergency water issues. Staff will respond to a total loss of water service.​
Meetings and Events
All Council and  Committee of the Whole Meetings  ​​will be held virtually until further notice. Click here for the live fee​d link.​   
Committee of Adjustment meetings will be held virtually until further notice. View the webpage for the live feed link and more information.​ 

After a COVID-19-related hiatus, King Township's advisory committee meetings are restarting this month. The advisory committee meetings will be held virtually until further notice. The meetings for March are scheduled below:

Thursday, March 4
6:00 p.m. – Heritage Advisory Committee (Virtual Meeting – Not Live-Streamed)
If you wish to participate in the meeting virtually, register by emailing cpang@king.ca by 12pm (noon) on the day of the meeting.

Tuesday, March 9
1:00 p.m. – Accessibility Advisory Committee (Virtual Meeting – Not Live-Streamed)
If you wish to participate in the meeting virtually, register by emailing dmoratto@king.ca by 12pm (noon) on the day of the meeting.

Wednesday, March 24
6:00 p.m. – Sustainability Advisory Committee (Virtual Meeting – Not Live-Streamed)
If you wish to participate in the meeting virtually, register by emailing jwelch@king.ca by 12pm (noon) on the day of the meeting.

Want to see what is on the calendar for King? For more information such as dates and times of meetings, please visit https://www.king.ca/your-local-government/council/agendas-minutes and scroll down to the Meetings Calendar.

Following the advice of public health officials, King Township has decided to cancel all in-person regularly scheduled Township events. 
All public events scheduled at Township facilities are cancelled until further notice.
Community events taking place in Township facilities are also cancelled.​
How to Protect Yourself and Others
You can help protect yourself and loved ones by taking the following precautions:

Wash your hands often with soap and water or use an alcohol-based hand sanitizer.
Avoid touching your eyes, mouth and nose as much as possible.
Avoid contact with people who are ill and their items.
Cover your coughs and sneezes with a tissue. If you don't have a tissue, cough or sneeze into your upper sleeve or elbow, not your hands. Wash hands after coughing and sneezing.
Maintain a healthy lifestyle, including a healthy diet, exercise and enough sleep, to enhance your body's immune system.
If you need to self-isolate, please follow the advice from your healthcare provider.​​​

Symptoms of COVID-19​

Common signs include fever, and respiratory symptoms such as cough, shortness of breath, and breathing difficulties. In more severe cases, infection can cause pneumonia and acute respiratory distress.​

For more information on COVID-19:​

Contact King Township for information about services​

ServiceKing will continue to operate as usual through phone at 905-833-5321, email at serviceking@king.ca and online at www.king.ca. 

Not sure who to contact about a particular service? 

We've put together a guide to help citizens know exactly which levels of government are responsible for different services during the COVID-19 pandemic.​​ For more information, view the Roles and Responsibilities in COVID-19 Emergency Guide​.