Category
Economic Development
General News
News Releases
Toronto, Ont.—The Township of King and The Kingbridge Centre are partnering to foster an Innovation Hub at The Kingbridge Centre in King City with a focus on sustainability and food security, among other objectives.
The hub will offer unique programming and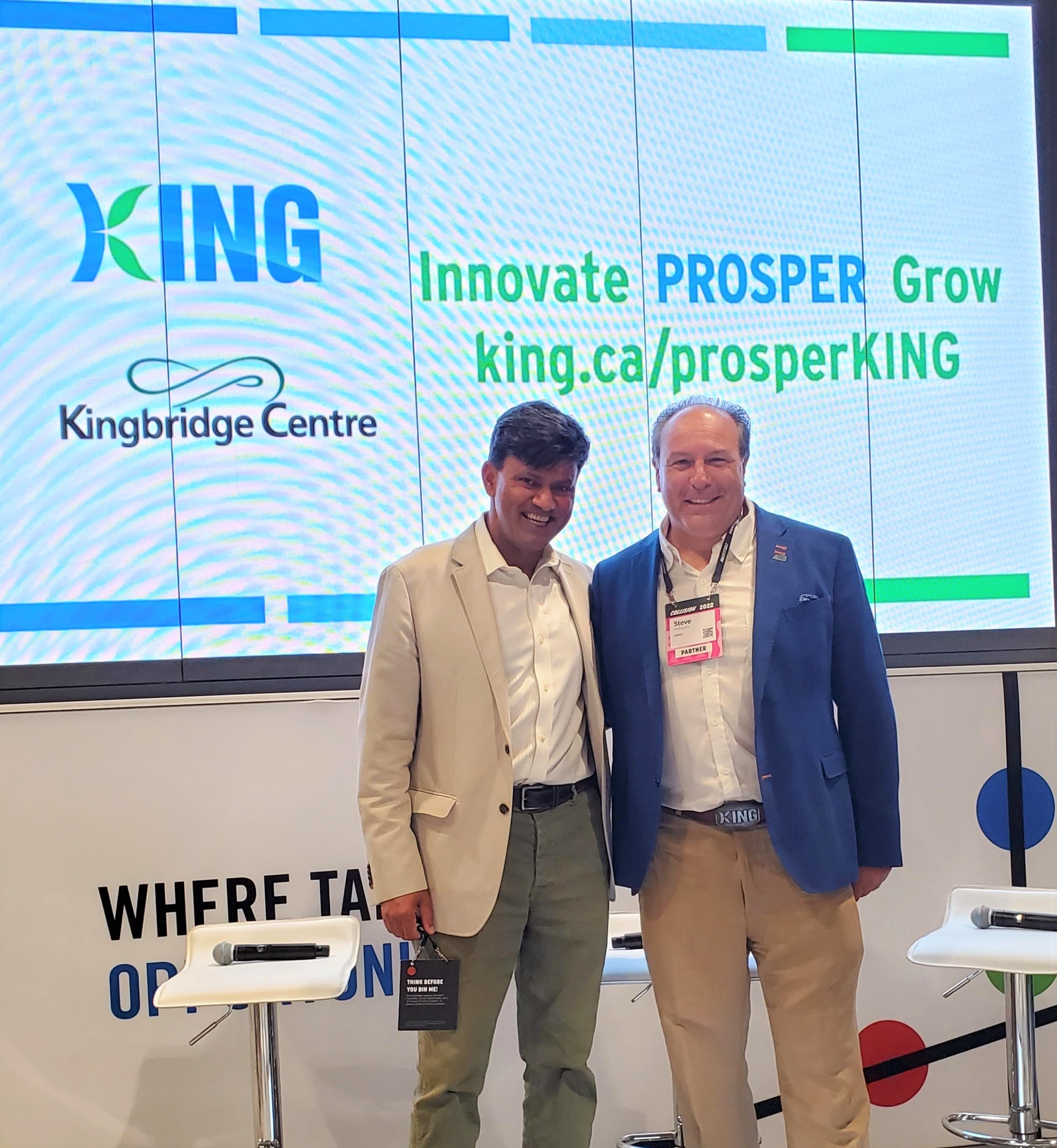 events to accelerate promising ideas that strengthen economic resiliency and prosperity in the face of challenges from climate change issues and address food innovation and biological preservation.
At the Collision Conference in Toronto on June 23, 2022, King and The Kingbridge Centre issued a joint invitation to high-tech innovators whose focus is on building climate resiliency.
Up to 10 selected businesses will spend two days at the Innovation Hub meeting with business leaders from the Township and York Region who work in their field, immersing themselves in the Kingbridge Living Lab and experiencing the quality of life in King.
The targeted areas of innovation are forestry management; carbon sequestration; climate change resiliency; carbon neutral innovations; sustainable energy; green and clean tech; food security; and the agri-food value chain.
The Kingbridge Centre
The Kingbridge Centre is a world-class destination specializing in off-site meetings, learning, problem-solving and leadership development that provides a unique immersive environment to expand mindset and create collaboration, innovation and transformational change. Visit kingbridgecentre.com.
Quotes
Mayor Steve Pellegrini
Township of King
"In King, we are looking for innovators who are reimagining how technology and sustainability for our planet intersect. King is a leader in sustainability practices at the municipal level, and now we need to be leaders in scaling this up, for the sustainability of our entire planet.
Our top priority is to foster innovation in areas impacted by climate change that can be scaled globally, which is why we want to attract tech with purpose. When our planet is more resilient, so are our people."
Prashant Pathak
Chair
The Kingbridge Centre
"We are excited to expand the reach of the Innovation Hub at Kingbridge in partnership with the Township and actively support cutting-edge and scalable ideas to grow them into businesses that address the challenges of climate change.
We're also looking forward to working with established businesses that have products and innovative concepts that can help in sustainability and environment-related issues found in the agri-food value chain, energy, water and waste, and forestry. This partnership will drive real change for King and get people thinking about how we can invest in a greener future for everyone."
Links and Resources:
kingbridgecentre.com/innovation-hub
-30-
About King Township
Lying in the heart of the Greater Toronto Area, King Township is located within York Region, one of the fastest growing and diverse economies in Canada. More than 60 per cent of the Holland Marsh, also known as Ontario's salad bowl, lies within King Township. Though predominantly rural, most of King Township's 27,333 residents live in the communities of King City, Nobleton and Schomberg. Residents and visitors are drawn to King because of its rural lifestyle, village atmosphere and quality of life. For more information visit www.king.ca.
About The Kingbridge Centre
Building on the foundation of innovation excellence and discovery created by original Kingbridge Centre founder, John Abele, Prashant Pathak and the Pathak Family Trust are leading the evolution of an Innovation Centre and Living Lab in the heart of King Township. The Kingbridge Centre is a mission-based business, leveraging its reputation as a distinctive off-site location for residential convening, conferencing, leadership development, corporate training and strategic retreats. The Innovation Hub activities include building strong collaborations for making impactful change, harnessing a global business network to grow companies, and catalyzing new initiatives that produce positive change in communities and the region. Learn more at www.kingbridgecentre.com.
Donna L. Kell, APR
Manager, Communications and Public Engagement
Township of King
2585 King Rd., King City, Ont. L7B 1A1
Office: 905-833-5321 ext. 1044
Mobile: 416-420-7492
dkell@king.ca