As York Region continues to administer vaccines under Phase 1 of the Provincial Vaccine Distribution plan, many York Region residents are anxious to know when it is their turn.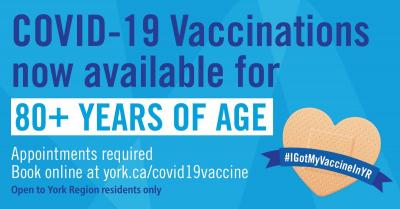 Currently, York Region residents born in 1941 or earlier and Very High and High Priority Health care workers can book an appointment online for their COVID-19 vaccination. From time to time, due to additional vaccine supply or cancellations and no shows, additional appointment slots may be released. Eligible residents are encouraged to check back often as more appointments are being added regularly. You can also stay informed by following York Region on Facebook and Twitter
If you have booked a COVID-19 vaccination at one of five clinic locations in York Region currently operating, there are some important things you should know before arriving at a clinic. Find out all the important details you should be aware of before, during and after booking your appointment at york.ca/covid19vaccinebeforeyougo

If you aren't yet eligible for your vaccine, keep up-to-date about upcoming priority groups and learn more about the vaccine by visiting york.ca/covid19vaccineinfo while you await your turn.