Snow Removal Information
A brief look at our fleet: Winter maintenance crews are responsible for clearing over 320km of roads. The Township's fleet includes two (2) graders, 12 plows complete with sand and salt units, four (4) pickup trucks with plows, and three (3) contracted sidewalk plows.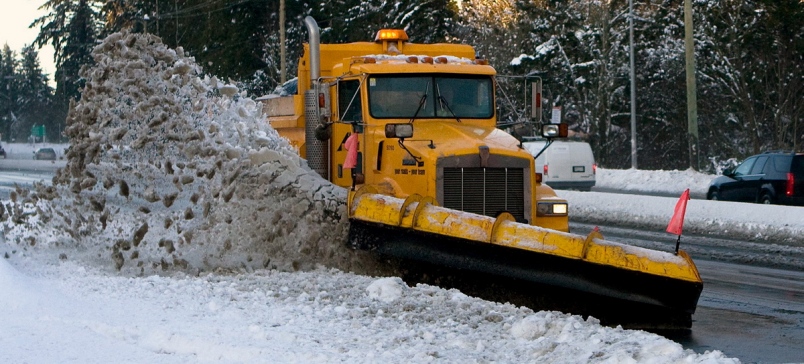 Frequently Asked Questions 
The Township of King can assist by providing services to senior citizens and persons with disabilities. For qualified applicants to receive this service, all obstructions must be removed from the end of their driveway and their house number must be visible. Please complete theSnow Removal Application​ Please call 905-833-5321 for more information.

PLEASE NOTE: It may take up to 24 hours from the end of a typical storm for the snow at the end of the driveway to be removed. This time frame may be longer when a significant weather event (SWE) has been declared. 
King Township clears major roads first, followed by neighbourhood roads.

Snow banks can become very high at the end of your driveway. Take time to move this snow and create a safe view in both directions.

Residents are asked to assist by keeping fire hydrants on their properties clear of snow. Hydrants should have a clearing of one metre (3 ft.) all around and there should be a clear path to the street to ensure firefighters can readily access them. A hydrant can help save lives and property in your neighbourhood, if you see a hydrant that's buried this winter, please do the neighbourly thing and dig it out.  In an emergency, every second counts!

The Township will remove snow from roads when severe accumulations affect two-way traffic and the ability for on-street parking. This may take several days after accumulations occur and is performed on a priority basis.
First priority is given to commercial areas and areas where safety is a concern.
Residents are reminded to avoid parking on the street so that snowplowing and snow removal crews can operate effectively.

Some snowstorms last many hours or have initial freezing rain that turns into snow. In these conditions, a re-plowing of priority streets may be required to maintain traffic safety. Re-plowing may occur before road crews can move on to other local streets. Priority of snow clearing is as per Minimum Maintenance Standards Regulation based on class of road.
 

| Class of Road | Total Snow Accumulation | Time to Clear |
| --- | --- | --- |
| Arterial Roads | 8 cm | 12 hours |
| Collector | 8 cm | 16 hours |
| Local | 10 cm | 24 hours |

Due to varied shapes, sizes and presence of centre islands, cul-de-sacs require specialized snow removal equipment and procedures. Most are services on a single shift after priority and other roads have been ploughed. The Township road system currently contains many cul-de-sacs. The Township understands the frustration that can occur for affected residents. We continually review the snow removal process in an effort to be more efficient and reduce delays that occur in clearing snow in cul-de-sacs areas.

Although crews are very conscious in following route schedules, sometimes streets may be missed. Please report any oversights during regular business hours to 905-833-5321. The crew will be notified and arrangements made to have the street cleared as soon as possible.

Most routes are completed with a 12 hour period. Clearance times may be longer when snowfall is exceptionally heavy, there are complications due to freezing rain, many cars are parked on the street or crews are working during peak traffic times. In accordance with Ministry of Labour Regulations, drivers cannot work more than 13 hours without a rest period. This can impact snow clearance time.

In extreme weather conditions the Township of King may declare a significant weather event (SWE) in accordance with the Minimum Maintenance Standards for Municipal Highways (Ontario Regulation 239/02). 

As per the Ontario Municipal Act, a municipality may declare a SWE when a weather hazard, either forecasted or occurring, has the potential to pose a significant danger to users of the roadways in which they have authority. Weather hazards include freezing rain, significant snowfall, strong winds, blowing snow, and reduced visibility. 

This declaration suspends the standard timelines required for municipalities to meet their winter maintenance objectives as it may take longer to achieve the Maintenance Standards.

The Township of King will maintain the roadways as per the levels of service identified in the Maintenance Standards once the SWE has ended. 

For more information regarding significant weather events please visit the Regional Municipality of York page here.

Sand/salt is used first until snow accumulation warrants plowing. The mixture used on Township paved roads is 50% sand and 50% salt. 90% sand and 10% salt is used on gravel roads. Spreading rates are electronically controlled by the operator of the truck. The Township of King uses modern technology in the application of this material and keeps up-to-date on new developments. Sand/salt reducing measures are implemented as appropriate. Staff regularly examine information on alternate de-icing and anti-icing technologies. Our goal is to be proactive in reducing the amount of salt while recognizing that the safety of Township streets during slippery conditions cannot be jeopardized.

How do plows get around moving or parked cars?
Care and experience are necessary to safely manoeuvre plough blades through traffic and around parked vehicles. Snow removal efficiency is at a maximum when streets have little or no traffic and are clear of parked cars.

Snow must be plowed to the side of the street during clearing. The Township understands that this unavoidable situation can be frustrating. To ensure adequate road width, crews must plow as close to the curb as possible. Crews may also need to pass over a street more than once during a snowfall. During quick thaw situations, multiple passing ensures proper water drainage and helps is avoid heavy flooding. At other times, snow is pushed back to prevent hardened snow that becomes impossible to move later. The Township does not have a windrow clearing program.

It is illegal to shovel snow or ice onto the road so please be mindful of where you're putting snow when you're clearing your sidewalk or driveway. Read the Ontario Highway Traffic Act - section 181 to learn more. 

Unfortunately, damage occurs on occasion. Snow plow operators face many challenges including limited lighting and poor visibility, pedestrians, parked cars and slippery conditions, sometimes these factors can cause a tearing of lawn areas on township property that fronts private property.

If your lawn is damaged by a municipal sidewalk plow, please contact the Township of King at 905-833-5321​. A staff member will take your name and address for spring restoration work. Repairs are undertaken on a routine basis when weather permits. The repair process starts mid-April and may last until late May. The lawn repair schedule varies depending on the severity of the winter and other weather-related damage that may occur including water main breaks.

If you live on a rural property and your "911" Green Property Identification Sign is damaged by a municipal plow, please contact the Township of King at 905-833-5321.  An inspection of the damage will be performed by Township staff, and repair or replacement will occur.  Please note: The damage must be reported when it occurs.

The Region of York provides transit and snow clearing at bus stops. If you have any concerns, please contact York Region Transit at 1-866-668-3978. Canada Post can be reached at 1-800-267-1177 with questions about snow removal around their mail boxes.

The following locations are not part of the Township's snow removal services: Unpaved park walkways and paths: some walkways have signs indicating that they are not maintained in the winter and suggest using alternative routes. Some new subdivision streets and sidewalks: the subdivision developer takes responsibility for winter maintenance and should be contacted directly regarding service issues. Please note that developers may contract plowing services from the Township. Private walks, driveways and roads: These areas are the responsibility of the property owner. Owners of townhouse complexes, plazas and other private areas must keep internal roads clear of snow and ice.

Snowplows will return to areas previously plowed and push snow further back into the boulevard, called 'shelving', to create space for the next snow fall.

Residents can do any of the following:

Observe all winter parking restrictions;
Refrain from parking vehicles on any roadway within the Township of King as per By-Law Number 96-70;
NEVER pass a snow plow;
Avoid braking suddenly in front of plows; they cannot stop quickly;
Reduce your speed and drive cautiously;
Remain off the road during snowstorms, unless absolutely necessary;
Do not allow children to make snow forts at the edge of the road;
Do not plow, blow or deposit snow back onto the roadway. Such action is an offence under the Ontario Highway Traffic Act, Section 181.
Before final clean-up of your driveway, check the road. If it does not appear to be widened out, a plow will probably return to plow again and may push snow back into the entrance of your driveway. Doing this might keep you from clearing your driveway more than once.
If possible deposit snow from clearing your driveway to the "downstream" side such that the plow carries it away from your driveway. This will minimize the redeposit of cleared snow back into your driveway entrance when the Township's plow does push back the road edges.
Finally, please have patience. Snow plowing is a time consuming and laborious job covering many kilometres of roadway.

​The Township of King's Parking By-law prohibits the parking of vehicles on roadways between November 1st and April 15th each year between the hours of 2:00 am and 6:00 am to allow for winter road maintenance. ​​There are also regulations that prohibit on-street parking at any time to interfere with snow removal.