WELCOME TO SCHOMBERG
Tradition. Complete. Engaged.
Schomberg has a strong culture steeped in tradition. Residents are incredibly engaged, and enjoy an unparalleled quality of life that combines a small town feel with all of the modern amenities they need.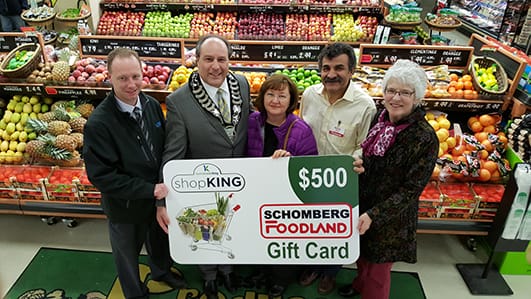 The combination of Schomberg's business park as well as its historic Main Street provides a full range of opportunities.
---
Schomberg is a mature community with a population of 3,450 and over 135 businesses. It is also the service centre for the agricultural community in King Township and its neighbouring communities.
Located at the intersection of Highway 27 and Highway 9, Schomberg's strategic location provides excellent shipping routes to all parts of of Southern Ontario. It benefits from cottage and skier commuter traffic throughout the year.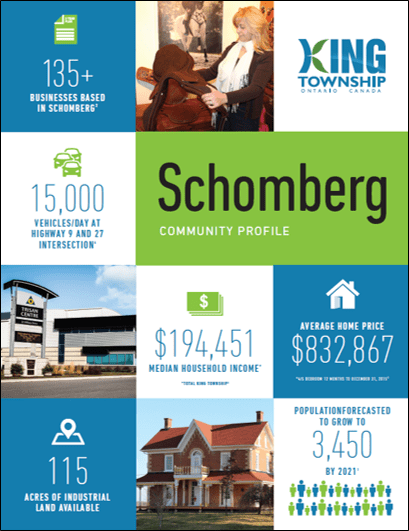 Schomberg is home to the Trisan Centre, a recreational facility with and NHL ice pad that hosts multiple hockey and curling tournaments throughout the year.  
As a result of its excellent location and bustling community, Schomberg is home to King Township's only McDonald's Restaurants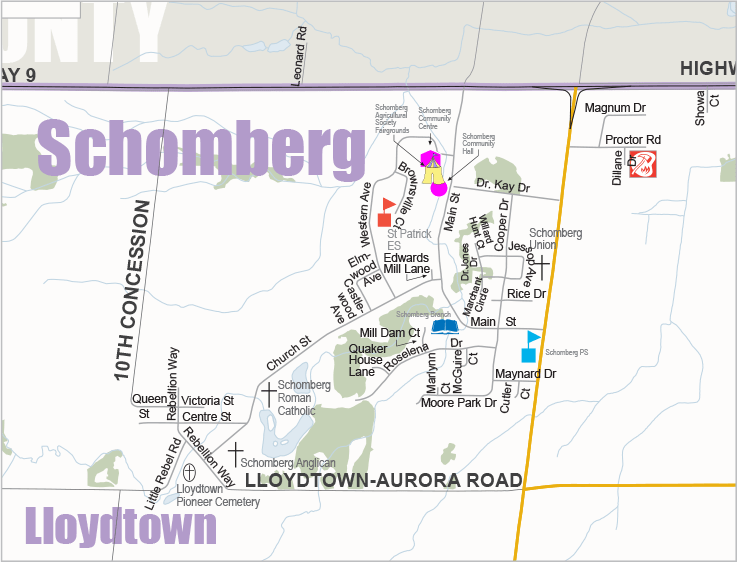 ---
Top Five Employers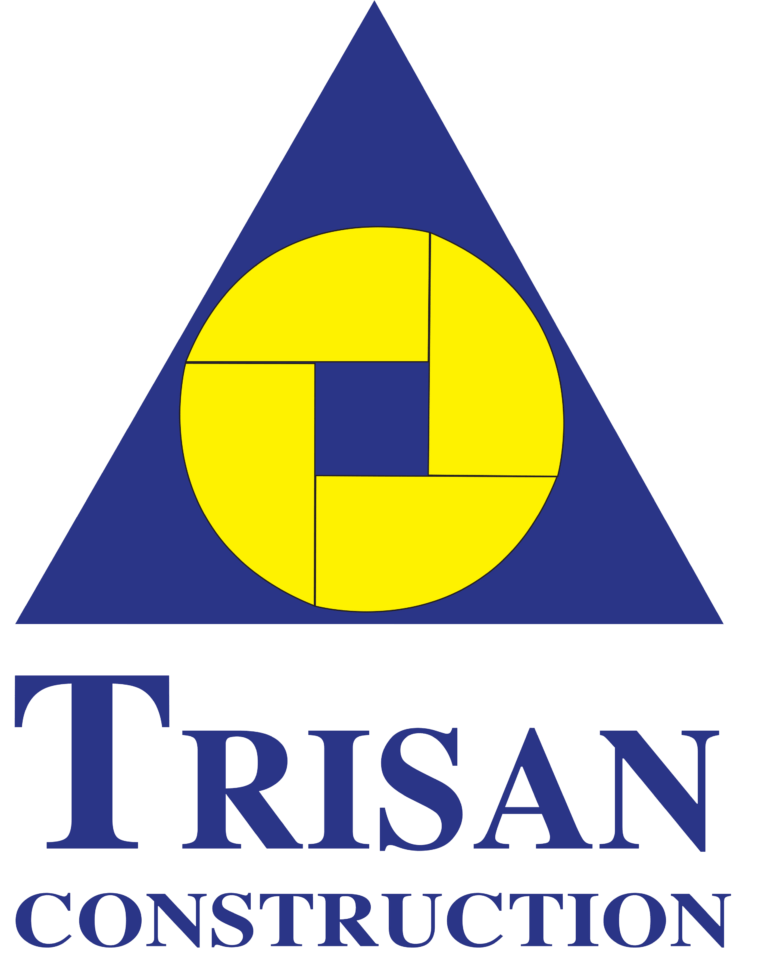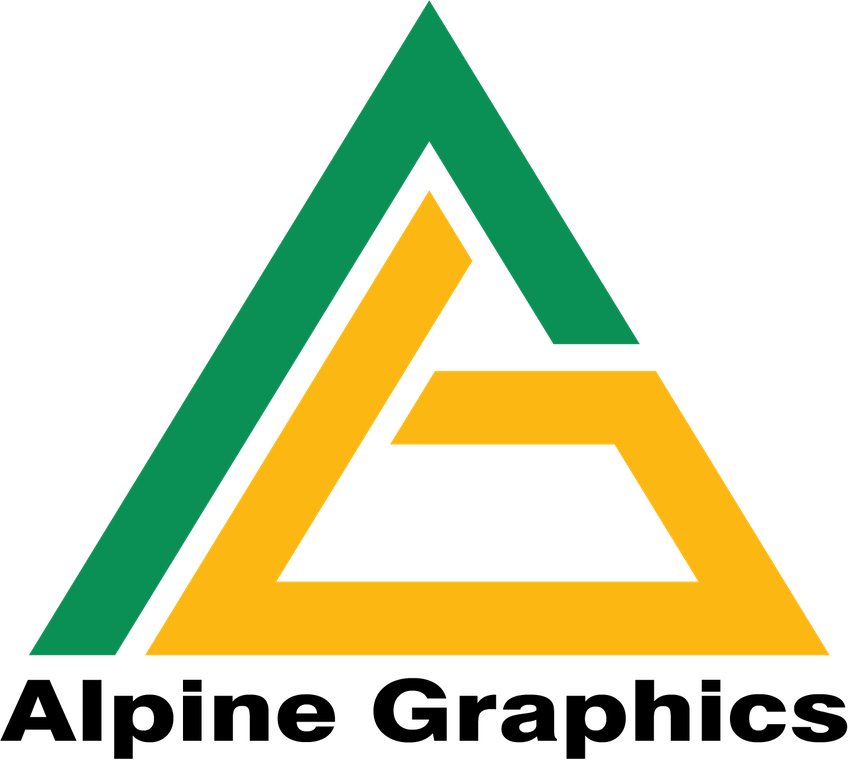 ---
Business Improvement Area
Bursting with charm and historic character, Main Street is nestled in the heart of Schomberg.  A popular destination for residents, tourists and cyclists, Main Street is a perfect location for specialty shops and restaurants.
Properties located in the Schomberg Main Street Core, running from Dr. Kay Drive almost to Church Street are eligible for the Community Improvement Plan Financial Incentive Program.
To qualify for the incentive program, property owners are encouraged to adhere to the Schomberg Village Design Guidelines.
---
Employment Area Lands
Schomberg is home to a vibrant manufacturing Centre, and is the location of the Canadian Head Offices of Showa Canada and BC Instruments.
There are approximately 20 acres of highway commercial lands available for development with 1 to 10 acre serviced lots and competitive development costs available. Future industrial lands are also designated within the Schomberg Community Plan.
There is also industrial and office space available in existing structures.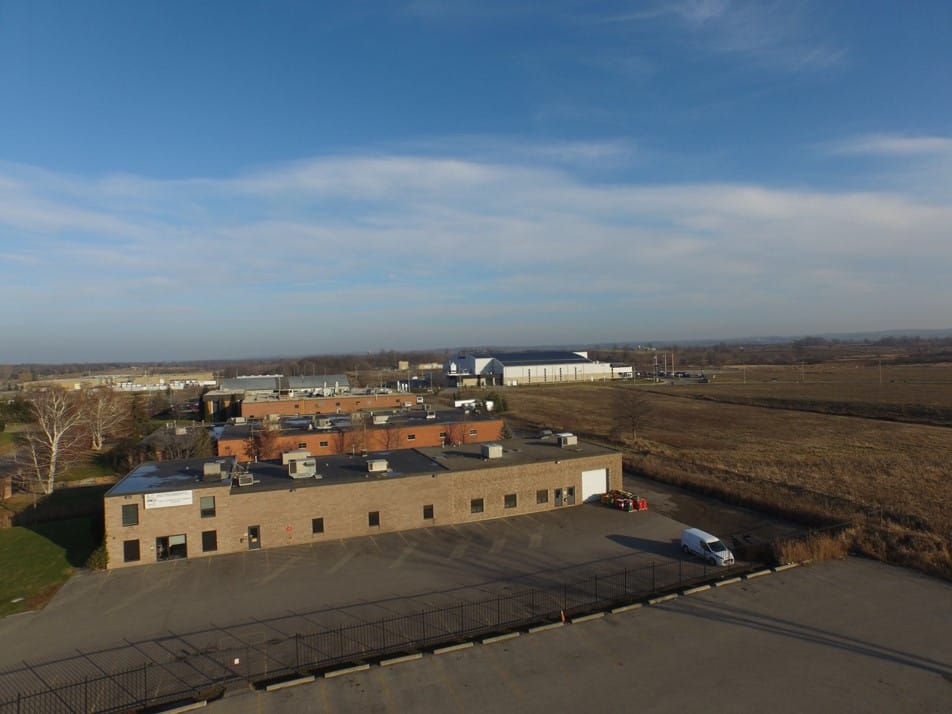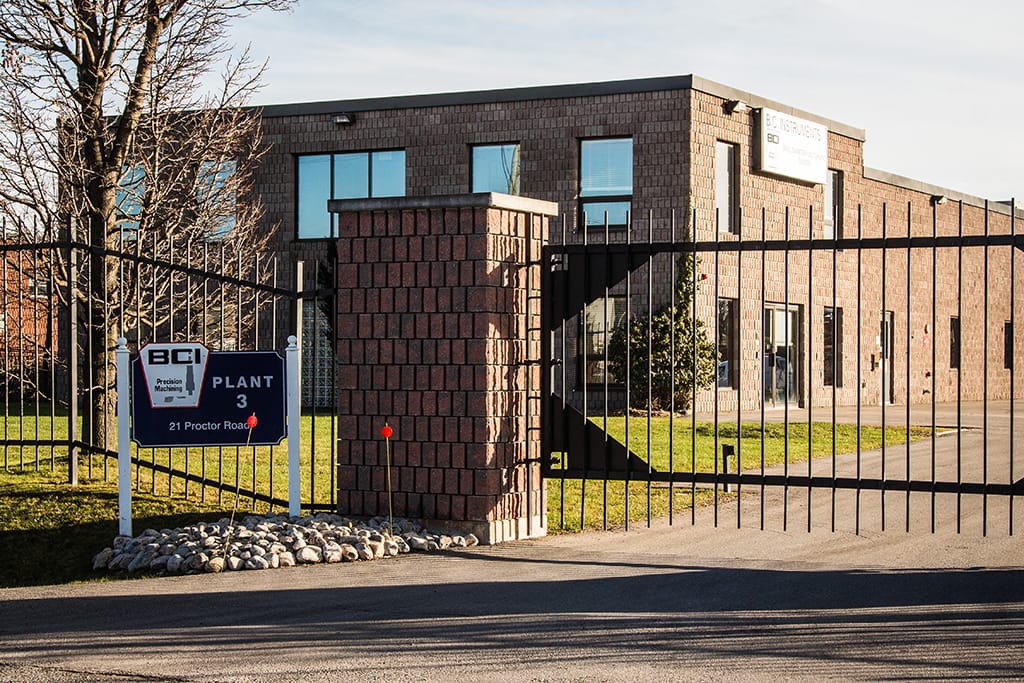 ---
Honouring Tradition
On the first Saturday of December, thousands of people flock to Schomberg Main Street to celebrate a Main Street Christmas. 
Families enjoy a kickoff parade, and shop and dine as they wander through Main Street. The grand finale of the event is the Farmer's Parade of Lights which celebrates Schomberg's agricultural roots and its surrounding community.